Women's Tech Hub in collaboration with UWE
April the 28th 2022 @ The Watershed, Central Bristol
Women's Tech Hub is proud to present a one day conference in collaboration with UWE Bristol. Rather than it being a conference for people in the field, this is a conference for people interested in Data Science and learning what it's about, how to transfer into the field and generally what it's about. The full details are on our dedicated page and we'll update with speaker Bios and companies looking to recruit as we go.
Going Live
It will be a slightly later start as many people are coming in from home as they are now remote working. 6.30 has been proposed for checking in.
We won't be providing pizzas (this may change if we get some sponsors in), we will provide drinks though and we will also put a break in for people to mingle
Format
It will be less based on workshops for the key groups and more a drop in for networking, discussion and support. This will allow beginners as well as professionals to mix more easily and less pressure to work through training. For beginners, the specialists should be able to propose training in the areas of expertise and support where help is needed. This will also be supported on the slack channel with the codehub team.
The groups to start with are: Python, WedDev101, BDSML and possibly gaming and anything else people want to meet up and discuss.
Also coming back in 'the real' on the 24th of February courtesy of scottlogic.
We're just chatting about speakers but Scott Logic has very kindly welcomed us back and said to put the date in the diary. They're based in Central Bristol so easy to get to with bus services etc and have great new offices!
We'll check on the rules for coming to a lateral flow test should be done before coming and obviously, if you are at an at-risk category then we suggest not coming to the live event.
Our Candidates
If you are interested in any of our candidates please contact us at info@wthub.org to discuss. If any of you are looking for jobs then feel free to send us your requirements and we can put you on our candidate's list.
Job(s) of the Week
There are some top jobs from our clients wanting to make a difference and ensure that they reach out to recruit a more diverse workforce. Please take a look and contact them if you are interested as often companies are open to discussing other openings with potential candidates also. For now, check out all of the jobs on our jobs board and get in touch if you want to reach out to our members at info@wthub.org.
Our Events
As mentioned above – we're back with Workshop Wednesdays in "the real" this week sign up Workshop Wednesdays in 'the real' or CodeHub @WorkshopWednesdays: "in the real". You can check all other happenings on our events page.
Conferences
The World's Largest Developer & Engineering Conference & Expo: Virtual for 2022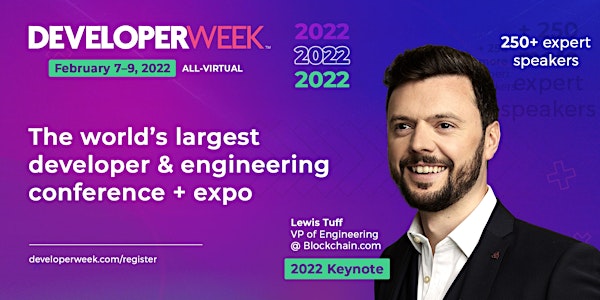 DeveloperWeek 2022 – the world's largest developer & engineering conference & expo with 8,000+ engineers, software architects, developers, IT leaders, technical professionals & executives from 115+ countries – for learning, skills, best practices & networking.
DeveloperWeek 2022 – the 10th annual event – will be VIRTUAL globally online, Feb 7-9, 2022. (co-located with ProductWorld 2022 + CloudWorld 2022.)
Others coming up that we have spotted you can find here.
As a suggestion from one of our lovely members (Thanks Gabs #1!), we have also set up a "buymeacoffee" page for those wanting to give us a small thank-you. Check it out here.
Women's Tech Hub products
Candidates page advertises the skillsets of the women we have looking for roles in the area (and some of our male allies).
Jobs Board for those wanting to advertise specifically to our members in the area – check it out here.