Digital Cities Bristol 2020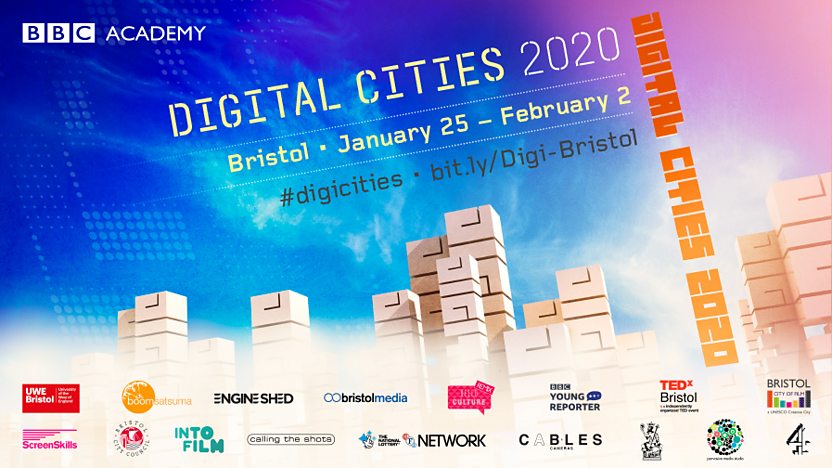 BBC Digital Cities will be returning to Bristol in 2020 with a week-long series of events for the creative industries. Starting on Saturday 25 January, there will be a full and varied schedule across the week, offering insights and free digital skills training.
Amongst the partners delivering events are BBC Academy with our Digital Skills Day, which includes the chance to find out about podcasting, TikTok, Instagram and filming on your smartphone, BBC Young Reporter, BBC Stem and digital arts and creative conference, Hello Culture Remix, will be making its debut in the city.
Boomsatsuma will once again be opening up their doors for an Ask Me Anything event and Bristol Media's How to Get Your Dream Job event will be taking place at the BBC Bristol.
Watershed's Pervasive Media Studio will be hosting a special lunchtime session on the Friday with the BBC's Makerbox and We The Curious are running their awe-inspiring Planetarium Nights.
There will also be a day of events on Thursday 30 January at Watershed. Called Screen Futures, it will feature Bristol UNESCO City of Film, Into Film, ScreenSkills, Cables & Cameras, TEDxBristol, BBC Writersroom, BFI NETWORK, Calling the Shots and BBC Upload and many more fantastic organisations, and will give you the chance to find out what schemes and opportunities they can offer.
Also, recent arrivals to the city – Channel 4 – will be talking about their latest apprenticips and trainee schemes and not to be missed out, tech and digital creators will be able to attend UWE's Global Game Jam.
Get Involved with a Plant Swap
Candide are setting up a Plant swap to encourage employee wellness at work. Details wise, we're looking to hold the plant swap on an evening or during the day, whatever suits! For people to join in the plant swap, employees can either come along and buy a plant or they can bring one along to swap with someone else's or one of theirs 🙂 If they just want to browse that's also fine! If you know any companies who would be keen or would like to get involved please mail directly to Zoe.
Workshop Wednesday 29th January
Bristol Data Science and Machine Learning Study Group
We are currently focusing on the fast.ai 'Practical Deep Learning for Coders v3' course (https://www.fast.ai/). Please read the 'About' info about this group and FAQs for any immediate questions here. Don't forget to bring your own laptop, headphones, and a friend too! Join up on their event page
CodeHubs WebDev 101
WebDev101 is a self-directed study group for everyone interested in improving their knowledge of any subject in the field of web development. As we are not instructor-led, you will only get out what you put into this group! Join up on their event page
Women's Tech Hub Python Workshops
This workshop is for those interested to learn Python and is aimed at both beginners and those with a little Python experience. The topics and examples are chosen such that you can directly use Python for a Data Science project afterward. Someone who comes to all the sessions (and does some practicing at home) will have covered the pre-requisites for a typical Data Science Bootcamp by the end of the workshop.
This week they will be covering Data Structures including Data Types (strings, integers, floats) Lists Dictionaries Arrays (Numpy package). Sign up on the Workshop Wednesday and respond with "Python"
Other Stuff
GGD #80 Data Fuelled Growth: Why and How to implement with your product
Candide are hosting us for our first event of 2020 (February the 20th).
Pippa Churcher – head of growth will talk about how to use Data in her role
Helen Allsebrook – head of PR will intro the company and what it's all about.
We'll update details as we get them … but you can sign up here.
Accessibility as a Business Analyst
South West BA meetup event on Thursday 6th Feb. Open to BAs, people who enjoy BA topics, and everyone who wonders what BAs even are! Come along to hear practical guidance on accessibility requirements and the real experience of a journey to build a team's confidence in accessibility. Sign up here.
Conferences
We advertise any conference details we spot on our conference page – we'll give you highlights here (our events and ones with offers come first and loudest obviously!)
This free-to-attend one-day symposium will showcase the power of real-time reaction monitoring by various analytical techniques for kinetic and mechanistic investigations in organic and inorganic chemistry, and solution-phase catalysis. Whether you are an academic researcher, a postgraduate student, an industrial scientist or just someone with an enthusiasm for reaction monitoring, the Reaction Monitoring Symposium will be of interest to you. There will be opportunities to network with colleagues over coffee, discuss your research needs with exhibitors, present a poster on your reaction monitoring research, interact with experts during the round-table panel discussion, as well as enjoying a day of exciting science.
Women in Engineering – South West – February the 6th
A day to be inspired, empowered and connected #WIESW20
A day of inspirational talks, training and networking, for all engineering professionals within the South West wishing to develop their skills and make contacts within the industry. More details on the event website.
All profits will go to the charity WaterAid who work to empower women through clean water and sanitation around the world.
This Week's happenings
District 1 – Bristol
Monday the 27th
How To Get Your Dream Job BBC Digital
The Tiger Who Came to Tea: lesson plan launch and CPD session BBC Digital
Tuesday the 28th
Hello Culture Remix: Telling Tales BBC Digital
Wednesday the 29th:- Workshop Wednesday events
Wednesday the 29th
Thursday the 30th
Friday the 31st
Global Game Jam 2020 (3 Days) BBC Digital
BBC R&D's tools for interactive and responsive storytelling BBC Digital
District 2 – Bath
Wednesday the 29th
Thursday the 30th
Did we miss anything?
If you have any events that you want us to mention on our next Blogpost contact us on info@wthub.org. We do try to keep it to free or funded items that our members might relate to.
Women's Tech Hub products
Our Candidates page advertises the skillsets of the women we have looking for roles in the area (and some of our male allies).
We have a Jobs Board for those wanting to advertise specifically to our members in the area – check it out here.
If you want to engage with our members, advertise your companies and share any jobs then you can support us by sponsoring the Workshop Wednesdays – details here.